Upcoming Events
We are proud to be a part of your community. Below is a list of events, activities, and seminars that we are involved in.
November 2017 Events
Honor Field 2017
Nov 11, 2017 10:00 AM to Nov 11, 2017 11:00 AM
On Veterans Day weekend we will turn the lawn of Civista Bank into a sea of red, white and blue with hundreds of 3ft x 5ft American Flags on 8ft poles. Each representing a thank you to our local men and women that serve and have served our country for their contribution and sacrifice for our country. All proceeds from this event go to support local veteran organizations. Sponsorships start at $250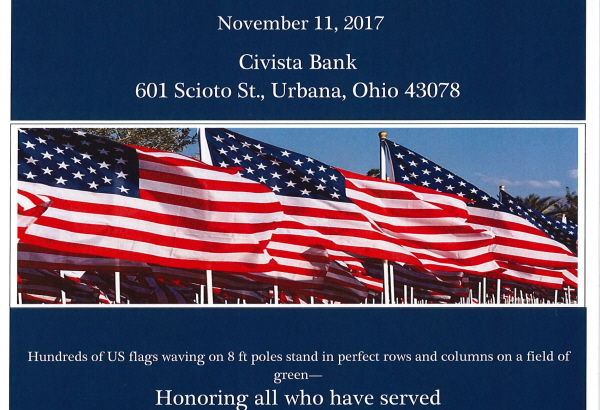 FREE SENIOR MOVIE EVENT
Nov 16, 2017 10:00 AM to Nov 16, 2017 12:00 PM
We are hosting a FREE SENIOR MOVIE Event at the Gloria Theatre on Friday March 30th at 10:00am. We will be showing the new release movie God is Not Dead 3 and doors will open at 9:30am.
RSVP is required and space is limited. Call 653-4227 to reserve your spot.